We are a Bible-believing evangelical Anglican Church situated on London Road near Domino's pizza in Carlisle. We have a wide range of activities and services throughout the week including home groups, coffee mornings, youth club, and other activities that cater for various ages and abilities. Do join us if you can.
Find out the latest news here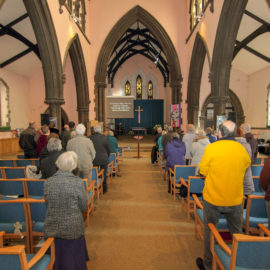 If you missed the great 'Understanding the Bible' course by the North West Partnership, you can catch up with the sessions below. READ MORE
A new and easy way of giving to our parish
Life has changed dramatically through COVID-19 in all sorts of ways which has affected how we sustain the life and ministry of St Johns and St Andrews. It has also provided new opportunities, which we are keen to embrace.
As you know, much more has gone on-line, whether it be shopping but also live streaming of Church Services (although we are eager to meet again in our buildings).
The Diocese have set up a simple and safe means of giving to your local parish by an on-line giving platform and we want to take part in this and hope you will support it. You can also gift aid your donation and set up direct debits. It is for fans, friends, and family of St Johns and St Andrews. Please consider helping us in this way if you can. We really do value your support in "building community" in our parish.
Rev Steve Donald, vicar of St Johns and St Andrews
Since we cannot meet due to the COVID – 19 restrictions. You can watch the latest message from us every Sunday right here, or on our Facebook page.
Have a peek at our events calendar for day to day activity information. Just get in touch if you would like any more information regarding any events.
Monday
Tuesday
Wednesday
Thursday
Friday
Saturday
Sunday

1

2

3

4

5

6

7

8

9

10

11

12

13

14

15

16

17

18

19

20

21

22

14:00

– 15:30

Short Mat Bowls

If you would like to know more about this group then please contact Steve Donald on (01228) 521601 or email the office at

office@st-johns-carlisle.co.uk

23

19:30

– 21:00

Home Bible Study Group

If you would like to know more about this group then please contact Steve Donald on (01228) 521601 or email the office at

office@st-johns-carlisle.co.uk

19:30

– 21:00

Youth Leaders Bible Study Group

If you would like to know more about this group then please contact Steve Donald on (01228) 521601 or email the office at

office@st-johns-carlisle.co.uk

24

10:00

– 11:30

Mums and Toddlers

If you would like to know more about this group then please contact Steve Donald on (01228) 521601 or email the office at

office@st-johns-carlisle.co.uk

19:30

– 21:00

Home Bible Study Group

If you would like to know more about this group then please contact Steve Donald on (01228) 521601 or email the office at

office@st-johns-carlisle.co.uk

25

07:30

– 08:30

Morning Prayer Meeting

If you would like to know more about this group then please contact Steve Donald on (01228) 521601 or email the office at

office@st-johns-carlisle.co.uk

26

19:30

– 21:30

Youth Club at St John's - See Rob McWilliams

If you are aged 11-15 and want to join a youth club (term-time) with a difference then this is the one for you, further information from Rob (ignite@st-johns-carlisle.co.uk)

27

28

10:30

– 11:30

All Age Worship

If you would like to know more about this service then please contact Steve Donald on (01228) 521601 or email the office at

office@st-johns-carlisle.co.uk

1

13:00

– 14:00

Parish Focused Prayer Meeting

14:00

– 15:30

Short Mat Bowls

If you would like to know more about this group then please contact Steve Donald on (01228) 521601 or email the office at

office@st-johns-carlisle.co.uk

2

19:30

– 21:00

Home Bible Study Group

If you would like to know more about this group then please contact Steve Donald on (01228) 521601 or email the office at

office@st-johns-carlisle.co.uk

19:30

– 21:00

Youth Leaders Bible Study Group

If you would like to know more about this group then please contact Steve Donald on (01228) 521601 or email the office at

office@st-johns-carlisle.co.uk

3

10:00

– 11:30

Mums and Toddlers

If you would like to know more about this group then please contact Steve Donald on (01228) 521601 or email the office at

office@st-johns-carlisle.co.uk

19:30

– 21:00

Home Bible Study Group

If you would like to know more about this group then please contact Steve Donald on (01228) 521601 or email the office at

office@st-johns-carlisle.co.uk

4

07:30

– 08:30

Morning Prayer Meeting

If you would like to know more about this group then please contact Steve Donald on (01228) 521601 or email the office at

office@st-johns-carlisle.co.uk

5

19:30

– 21:30

Youth Club at St John's - See Rob McWilliams

If you are aged 11-15 and want to join a youth club (term-time) with a difference then this is the one for you, further information from Rob (ignite@st-johns-carlisle.co.uk)

6

10:00

– 12:00

Coffee morning in the Church Cafe

If you would like to know more about this group then please contact Steve Donald on (01228) 521601 or email the office at

office@st-johns-carlisle.co.uk

7

10:30

– 11:30

All Age Worship

If you would like to know more about this service then please contact Steve Donald on (01228) 521601 or email the office at

office@st-johns-carlisle.co.uk

8

14:00

– 15:30

Short Mat Bowls

If you would like to know more about this group then please contact Steve Donald on (01228) 521601 or email the office at

office@st-johns-carlisle.co.uk

9

19:30

– 21:00

Home Bible Study Group

If you would like to know more about this group then please contact Steve Donald on (01228) 521601 or email the office at

office@st-johns-carlisle.co.uk

19:30

– 21:00

Youth Leaders Bible Study Group

If you would like to know more about this group then please contact Steve Donald on (01228) 521601 or email the office at

office@st-johns-carlisle.co.uk

10

10:00

– 11:30

Mums and Toddlers

If you would like to know more about this group then please contact Steve Donald on (01228) 521601 or email the office at

office@st-johns-carlisle.co.uk

19:30

– 21:00

Home Bible Study Group

If you would like to know more about this group then please contact Steve Donald on (01228) 521601 or email the office at

office@st-johns-carlisle.co.uk

11

07:30

– 08:30

Morning Prayer Meeting

If you would like to know more about this group then please contact Steve Donald on (01228) 521601 or email the office at

office@st-johns-carlisle.co.uk

12

19:30

– 21:30

Youth Club at St John's - See Rob McWilliams

If you are aged 11-15 and want to join a youth club (term-time) with a difference then this is the one for you, further information from Rob (ignite@st-johns-carlisle.co.uk)

13

14

10:30

– 11:30

All Age Worship

If you would like to know more about this service then please contact Steve Donald on (01228) 521601 or email the office at

office@st-johns-carlisle.co.uk

15

16

17

18

19

20

21

22

23

24

25

26

27

28

29

30

31